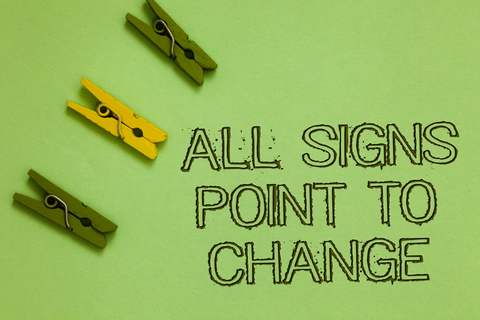 As the needs and wants of society change, the requirements of many suppliers of goods and services change as well. Changes in technology and the ways to manage them, such as those mentioned in Forbes article on this topic, current issues and other innovations have made it so businesses must be mindful of how these have an impact on their business offerings. So how do you know when it is time to change or at least time to think about evolving your business?
Consider some of the following indicators as potential flags for a business in need of evolution:
1. Current clients have chosen to move to other companies for the goods and services you once provided to them;
2. There doesn't seem to be any new business coming in;
3. There have been significant changes within your industry;
4. Your employees have chosen to move elsewhere;
5. Service gaps discovered while challenging your knowledge and client requests.
Looking at each of these in closer detail can help you find areas of improvement and evolution within your business.
Current clients bring in revenue for your business, so as business owners we do all we can to ensure they are happy with the service and deliverables received. Some of the more common reasons for losing clients are either they are unhappy with the service received, the product delivered, or how much that product costs, but in many cases, businesses have worked hard to deliver a quality product, have remained professional and researched prices well enough that they align to the market. At times we hear business owners say "I did all of that, but they still moved on." In these cases, it is possible that the client simply didn't need the product anymore as it is in its current state. Perhaps some enhancements can be made to your current offerings to provide a little more to clients to give you an extra edge over competitors. A few examples can be found in this Entrepreneurship in a Box's article.
It is fantastic when current clients hang on with us, but to continue business growth new customers are also required. Positive word of mouth from existing customers is one of the best ways to create this organic growth in customer base, but if you need to go out to find them you need to get out there and spread the word yourself. Try attending tradeshows, updating your marketing strategy and image and networking through newer types of media.
To manage both the maintenance of current clients and the acquisition of new clients it may be necessary to take a look for gaps in your current offerings. It's nice to think we're doing all we can, but perhaps there are areas you can educate yourself on to provide a more complete solution to clients. Maybe you are a bookkeeping wizard, but new accounting software has come out that you are unfamiliar with, and you have begun to see a client need related to that software. It might be time to evolve and learn the software to fill in that gap to offer that complete bookkeeping solution.
Innovative changes will happen all around you, even if you don't. When your industry starts to change it may not be very noticeable at first but over time you may see your competitors changing and evolving with innovations and there may be a reason for it. When changes in technologies and how a client's function in their activities happen, suppliers to those clients also need to evolve and innovate. Check into each of your products and services to see if they are all still applicable or if they have grown stale. If you are wondering how this can be done, there is an interesting Info Entrepreneurs article touching on some of the ways to innovate.
Finally, let's not forget our employees are the fuel for our businesses to operate. Without them, it would be very difficult to maintain your client's deadlines and some of your employees may hold valuable expertise your company needs to supply certain services. It may be time to evolve your business if you're finding some of your employees have decided to move elsewhere. So check in with them and get their opinions on what is going on. Take a look at our previous article on virtual employees giving insight to some of the questions employees may have that you could answer.
Sign up for our upcoming WUT? Newsletter and find ways to expand your client base.