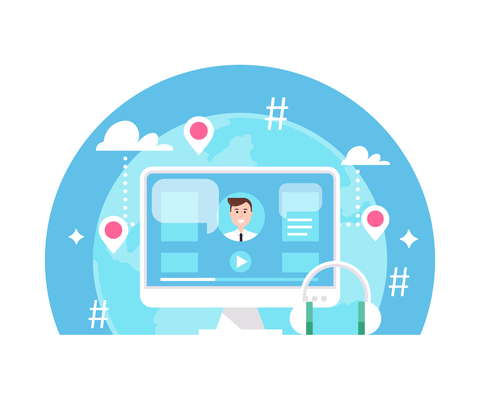 Hosting an event, whether for personal or business, can be a wonderful experience. A personal event such as an anniversary, birthday or wedding is a celebration of a next chapter.  I've been invited to and have attended a virtual baby shower for a friend in the United States and it was a blast.
An organization's event, whether it be for a non-profit, association or business can be a necessary part of running a organization to increase visibility, promote new products or services.
At times, the logistics of running a traditional event can be overwhelming, but is well worth the time and effort to make it run smoothly. The selection of a location based on the type of audience and number of attendees, the content of the material to provide during the presentation including the type of media to present with, catering if there will be food or drink, activities to keep the audience engaged are among the numerous logistics to consider. Thankfully, there are many resources to cover this topic, one of which is this article from Small Business Trends on Tips for Producing a Memorable Small Business Event, because let's face it, putting on a traditional event really is a production and it does come with a cost and time investment.
The beauty of virtual events is that it can be organized in a couple of ways. There is what we might refer to as a hybrid virtual event which still provides an event hosted in a physical location for your attendees, but uses virtual aspects as part of the presentation, is used for messaging in the promotion of the event, and provides an online outreach for those that require flexibility, where they may not be able to attend.
An entirely virtual event could allow you to provide your message, engage your audience and simultaneously obtain feedback while avoiding the "production" costs of a traditional event.
Some of the more important things to consider with hosting a virtual event may include:
The Audience – Understand who your audience is for the event and if they would be receptive to attending a virtual event, perhaps if they are in multiple locations.
The Message – Focus on the material to be presented and create your presentation in such a way so you are not just reading material from a slide, but showing a high level within the slide and discussing the details, allowing for feedback from the attendees and answering questions as you go.
The Technology – To host an entirely virtual event one of the first items to consider is what event hosting platform you will use and make sure it will function properly. This may include testing your own systems and anticipating what your audience will be using for viewing. It would be a shame to have the effort put into advertising your event, only to have the technology fail and your message not reach its audience. EzTalks provides a list of the top seven software for this purpose as well as the advantages and disadvantages of each. Choose wisely!
The Interaction – Remember to interact with your audience. You may not be able to see if they are engaged or not, but you can do your best to ensure their attention by asking questions, responding to their questions and making your audience aware that you are presenting to them.
How do you take care of your clients?  Sign up here for our upcoming WUT? Newsletter on July 24, 2019 for tips on "Providing the Best Customer support".