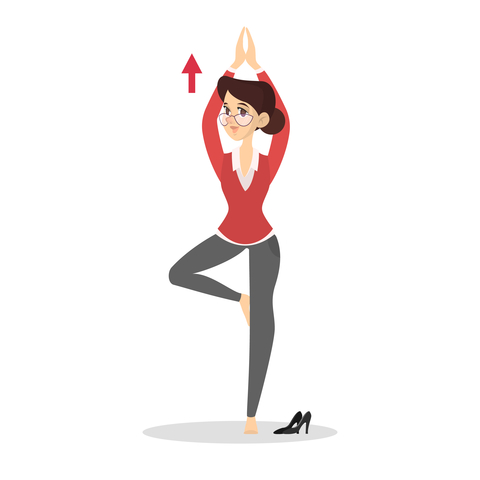 I recently spoke with an associate about the physicality (or lack thereof) in working an office job and wanted to know her opinion on the subject. Well, she had quite the story to tell on this subject. Have you ever had a day like this?
She had told me that recently both she and her colleague literally had to run from one client site to another. Both of them carrying backpacks of supplies, laptop bags, giant post-it notes and presentation boards for some pretty important client and stakeholder meetings. The meetings were all downtown within a few blocks of each other so they figured they could walk from one site to the other. What they didn't count on was very little time in between meetings, so they needed to move FAST!
She had admitted that for her colleague, a bit of an athlete, this was manageable, but she found herself struggling to keep up, sweating and quite out of breath. While they have now learned to plan better for days like this, it is still important to keep oneself in good physical form. Not only for days like that, but for personal activities as well and most importantly, one's overall health.
I think it goes without saying that working in a job where you may be physically sedentary is not good for you. There is an abundance of articles and videos online telling us that office jobs can be detrimental to your health if adjustments are not made to improve. One such article can be found on livestrong.com providing some solutions to this through healthy eating by packing your own lunch, as well as engaging in activities that can be done easily within a sedentary work environment; even something as simple as keeping your posture in check while working in this type of environment can have an impact.
The Canadian Centre for Occupational Health and Safety outlines some of the health issues that face office workers, such as sitting for long periods, mental illness and musculoskeletal disorders from computer use. The Mayo Clinic not only looks at what issues are caused by sitting too long, but also offers some tips to help with this issue. Things you can do include:
– Making sure you get up every 30 minutes to 1 hour to move around a little
– Stand up while on the telephone, if possible.
– Take a walk at lunch time
Some of the obvious benefits of staying healthy and active in a sedentary job, like office work, are weight management, lowered risk of heart disease, reduction in blood sugar, and reduction of cholesterol; but if the physical benefits are not enough to make these changes, consider the benefits to your work habits. Engaging in exercise every day can lower stress and improve cognitive function, memory and concentration, as outlined in the Harvard Business Review and through this can lead to having more productive days.
Wishing you all good physical and mental health!
Remember to get online and Sign up for our upcoming WUT? newsletter on June 31st with five ways to reduce stress.