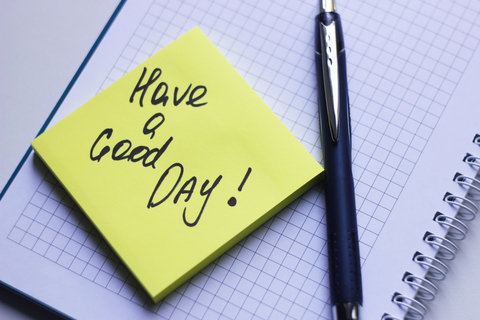 Who doesn't have a bad day?
We all do sometimes, and these days it seems like there are a lot of them. A recent bad day was experienced by a friend of mine, let's call her "R". Picture this:
After a restless night's sleep, "R" wakes up with an incredible headache and stumbles along getting ready for the workday ahead. With no hot water left for a shower, a broken hairbrush and tangled necklace (and not one, but two, dropped cups of coffee), she managed to still get herself ready for the day. She realizes what she thought was 8 am, was actually 9 am and she was already running late for work. The rest of the day became a blur of things just not going right.  It is safe to say "R" was having a bad day. 
There are some common causes for a bad day: The list below is not exhaustive of the causes of a bad day, but they are common to many.
Lack of Sleep (like our friend above)

Not getting the right amount of sleep can be a contributor to stress and poor health.

The Presentation of Negative Information

We are bombarded by the news, social media and negative people providing negative information that can be overwhelming.

On-going issues that last a while

There may be past negative experiences that still have a current impact that needs to be dealt with.

Upsetting events just happen

Things just happen and they will have an effect on your day.
Relativity of Problems:
Now that we have put forward some of the common causes for a bad day, it is important to recognize that people come from different places and their lives are based on different events.
As a result, we all have different levels of what people consider a problem that causes a bad day and it is important to not discount the struggles of others even if we don't understand their struggles as a problem.
We all need support when we are facing a bad day.
Tips to get through it: So, let's try to get through that bad day with the following ideas:
Take a moment to just breathe. Stop the bad day in its tracks.
Do some things to make you feel better like taking a relaxing bath, have some tea, go for a walk or meditate.
Understand the cause of the bad day and determine if these are things within your control. If they are, make the change that is needed and if this is not in your control do your best to let it go.
Journal those things that are causing your bad day as a way to express your emotions, or speak with someone to ask for help.
If you are interested in trying a few other methods to get through a bad day check out tinybuddha.com's article on how to turn around a bad day in 10 minutes.
Need a few hints for using DropBox.? Sign up for our upcoming WUT? Newsletter by April 8, 2020 and get DropBox shortcuts.