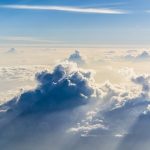 When we think of the term "working in the cloud", we refer to working in cyberspace – files in cloud storage, on a server somewhere on the planet rather than working on files on our hard drive.
Remember when there were just the other clouds, you know, the white fluffy ones that hover above the earth and turn dark when there's a storm approaching?
Last week, I had a chance to work in those original clouds: my office was 39,000 feet above the earth.
This idea alone may scare the wits out of some people, however, for seasoned business travelers, it's become the standard.  Armed with a tablet or other mobile device, daily tasks and much more can be accomplished while globetrotting on business, or in my case, returning from holiday in the UK.
How is this done, you may ask?  The airline I flew with provided WiFi access via satellite for a nominal fee so that I could respond to emails and check my calendar; the documents I need to work on were on my tablet along with all the apps that I use. Once I finished with the documents, I uploaded to the other cloud so my assistant can access them.
Technology is constantly changing and improving for the betterment of everyone.  For me, using current technology allows me to use idle time much more productively and I really like the idea of having that option, should I choose to use it (that's 6.5 hours of getting ahead on my workweek while sitting in a plane!).  Sure, the surroundings were a little cramped, but it worked.
Do you take advantage of technology while you're traveling or do you prefer to use travel time to relax and unwind?  Share your comments below!
Related post: The Remote Workspace
Sign up for our "Wednesday Useful Tip"