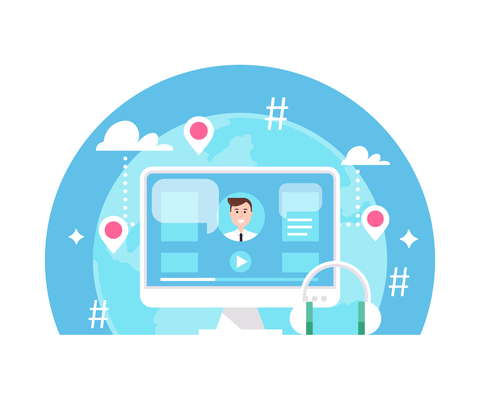 It used to be that running a meeting on Zoom was a 'luxury'; considered only a necessity for folks who couldn't attend in person. It was a lot of work to set all that up in the background and run it. Oh, how times have changed! This past year has forced us to switch gears quickly and use technology to create something of a normal way to conduct meetings and conferences with a minimum of disruption.
You may not be the host of in-person meetings these days, but did you know there is such a thing as 'virtual event hosting etiquette'? Think of all the things that need to be done and need attending to when you're hosting an in-person meeting or event, like catering, registrations, customer care, speaker needs, documents, presentations, etc. Now do all that with a twist: no one is going to be where you are. (Yikes!)
Intrigued? Freaked out? Or are you one of those people that are thinking to themselves, 'Bring. It. On.'?
The beauty of virtual events is that it can be organized in a couple of ways. There is what we might refer to as a hybrid virtual event which still provides an event hosted in a physical location for your attendees, but uses virtual aspects as part of the presentation, is used for messaging in the promotion of the event and provides an online outreach for those that require flexibility, where they may not be able to attend.
An entirely virtual event could allow you to provide your message, engage your audience and simultaneously obtain feedback while avoiding the "production" costs of a traditional event. Some of the more important things to consider with hosting a virtual event or meeting may include:
The Audience – Understand who your audience is for the event and if they would be receptive to attending a virtual event, perhaps if they are in multiple locations.
The Message – Focus on the material to be presented and create your presentation in such a way so you are not just reading material from a slide but showing a high level within the slide and discussing the details, allowing for feedback from the attendees and answering questions as you go.
The Technology – To host an entirely virtual event one of the first items to consider is what event hosting platform you will use and make sure it will function properly. This may include testing your own systems and anticipating what your audience will be using for viewing. There are a lot of new platforms around these days so it's important to do your research and test, test, test!
The Interaction – Remember to interact with your audience. You may not be able to see if they are engaged or not, but you can do your best to ensure their attention by asking questions, responding to their questions and making your audience aware that you are presenting to them. You can make your meeting or event memorable by adding in:
Mail or courier a conference 'swag bag' to arrive to the registrants ahead of the event date. This can include things like chocolate (of course!), tea or coffee pods, popcorn, an 'I'm attending a conference' door hanger, hand signage to use while in a session (e.g. 'I vote yes!'), pens, sticky notes and the list goes on…;
Arrange a food delivery so that attendees can have a meal at the same time as the event is taking place;
Email documents ahead of time, or upload to a repository and provide the link;
Conduct pre-event surveys to discuss at the meeting or event – new data gives people something to talk about;
Set up virtual networking rooms;
Set up a virtual exhibit hall;
Make sure you schedule breaks and lunch time, just as you would for an in-person conference or event.
Of course, all this leads into opportunities to enhance donor/member/attendee engagement before, during and after the event or meeting. The cliché, 'think outside the box' comes to mind. What we miss by attending in-person meetings can be easily made up for by a little creative thinking and planning ahead.
How are you engaging with your members these days? Find me on LinkedIn and drop me a line or two: www.linkedin.com/in/virtualworks.
click here to sign-up for our weekly "Wednesday's Useful Tip" brief.