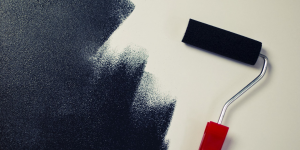 I was in denial. My driveway needed re-sealing for quite a few years and I was really hoping the night fairies would come and do it for me. Alas, no. A couple of summers ago, I thought I'd do it myself: get the bucket of black goo and the roller from the DIY store and spend time in 35C heat rolling said black goo on  my 2 cars wide and 2 cars long driveway. I never quite got around to it. I'm not a procrastinator but somehow I always managed to justify my lack of dedication to this part of home ownership.
About a month ago, a young man from 2 streets away knocked on my door and told me that he had a new business re-sealing driveways for the summer. He was studying accounting at university and thought this type of business venture would help him in school. (Great idea!)
I asked him how much to do the job and he said $195 tax in. I had to think about it – that's quite a bit of money just to roll out a bucketful of black goo. I looked at my dismal driveway and thought woefully how long I had been putting off the task. I called him back to say that I would take him up on his offer. We scheduled the work for the following day.
My hero came over close to supper time the next day and while I was preparing the meal, I checked in on the progress by periodically going back and forth between the kitchen and the living room. The first thing I saw was him power spraying all the weeds out from between the driveway and the curb. I didn't even think of that. The next trip to the living room I saw him power spraying the entire surface of the driveway. I would have swept the driveway; I didn't even think of power spraying it. Then he taped off the entire perimeter of the driveway so that no black goo would get on the lawn. After that, he manually filled in all the cracks and holes (there were many). Only then did he roll out the black goo.
By the time he finished, that $195 was the best money I ever spent for value of work. Not only did he save me the labour of doing that type of work in the summer's heat, he also provided value because he knew what he was doing. He's done a lot of driveways and has a level of expertise that I will never have (nor wish to have). Sure, I could have done it, but outsourcing this task yielded much better quality results and freed up my time. Now I have this task off my to-do list.
There is value in everything we do, both personally and professionally; our expertise in what we do daily provides value to others.   What do you need help with in your daily life?  In my view, it's worthwhile seeking out resources to help you get things done, things that you don't know how to do, or have no wish to learn how to do, and free up your time on what matters most to you.  Agree? Disagree?