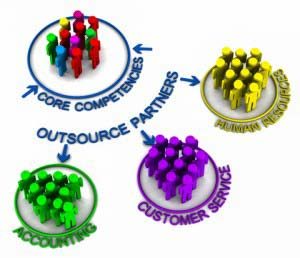 Outsourcing of services is becoming more and more mainstream and with the abundance of former corporate workers who have vast knowledge and experience and now run their own businesses, you will likely be able to find someone to help you for a reasonable amount of money. Just as business owners can operate from just about anywhere, resources can provide services from anywhere. But whatever your needs are, always remember: "buyer beware"!!
Here's a few things to consider when outsourcing:
The lowest priced outsourced solution may not be the best; good people cost money and beware that even these days, you still get what you pay for.
If you're just starting out, outsource from the very beginning with a Virtual Assistant and a bookkeeper and grow your team from there. As your business grows, you can take on a web designer, a ghost writer, a graphic designer, an executive assistant, a project manager, etc.
Don't outsource a task just because you don't want to do it. There will be tasks that only you can do because they're important to operations and strategic plan.
Always strike a fair deal with your resources and treat them with respect. You're relying on them to handle important tasks for you and your business so don't take advantage of them.
Bartering. This is a great way to get things done for no cost in exchange for services. Make sure that you and the resource are clear about the terms and that the services you each provide are both what you want. Beware that this mode of payment isn't for everyone.
On the personal side of your life, you might think about outsourcing to further free up your time:
A personal assistant to help keep you and your family organized;
Housekeeper/house cleaning service;
Property maintenance;
Grocery service, errand service
When I first started my remote support agency, I thought I would lay-off my housekeeper, thinking that since I would be working from home, I could manage the house myself. A very wise business coach I met during my early networking days advised me against it. The reason? "You're going to be at work during the day." She was correct, of course, and my housekeeper is still with me to this day. What are your priorities? What would make your life easier and be less stressful for you? Give it some thought!